Let's Play The Legend Of Zelda: Twilight Princess
Talk

0
Share
Ad blocker interference detected!
Wikia is a free-to-use site that makes money from advertising. We have a modified experience for viewers using ad blockers

Wikia is not accessible if you've made further modifications. Remove the custom ad blocker rule(s) and the page will load as expected.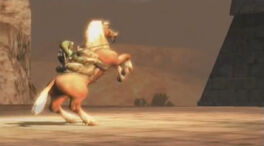 Let's Play The Legend Of Zelda: Twilight Princess is, by start date, NintendoCapriSun's 32nd let's play (LP) on YouTube. In it he plays the Nintendo GameCube version of The Legend of Zelda: Twilight Princess. It was posted between January 29 and June 18, 2010. The LP consists of 124 parts, starting at "Part 0". Part 113 is split into two videos, so the total number of videos is actually 125. NintendoCapriSun has expressed interest in recording the game's second "Cave of Ordeals" challenge some time in the future. As of now, this has been NintendoCapriSun's longest LP. One episode had to be reuploaded because it was taken down due to copyright claims from his use of an Air Supply song. The reupload replaces the song and is in much lower quality.
| # | Title | Upload Date | Link |
| --- | --- | --- | --- |
| 0 | Name My Horse! | Jan 29, 2010 | |
| 1 | I Wanna Be The Link | Feb 1, 2010 | |
| 2 | Cradle of Fish | Feb 6, 2010 | |
| 3 | Smashing Scarecrows | Feb 7, 2010 | |
| 4 | Not The Goats Again | Feb 8, 2010 | |
| 5 | WHAT? WHAT!? | Feb 9, 2010 | |
| 6 | Welcome To The Toilet Realm | Feb 10, 2010 | |
| 7 | Who Made That Man A Guard? | Feb 11, 2010 | |
| 8 | It Is Dangerous To Go Alone | Feb 12, 2010 | |
| 9 | I'll Take Your Tears | Feb 13, 2010 | |
| 10 | Light Is Now Known | Feb 15, 2010 | |
| 11 | The Lawnmower Man | Feb 16, 2010 | |
| 12 | Monket Butts | Feb 17, 2010 | |
| 13 | Two More Monkeys Free | Feb 18, 2010 | |
| 14 | Butt Scootin' Boogie | Feb 19, 2010 | |
| 15 | 6 + 7 = 11 | Feb 20, 2010 | |
| 16 | Shing! So Happy | Feb 22, 2010 | |
| 17 | I Didn't Just... DIE? | Feb 23, 2010 | |
| 18 | Pet Peavesdropping | | |
| 19 | Twilight Tracking | | |
| 20 | Howling Savior | | |
| 21 | Back On The Horse | | |
| 22 | Everyday Glory | | |
| 23 | Ain't No Mountain High Enough | | |
| 24 | Got Shield, Forgot Equippage | | |
| 25 | Walking On Walls | | |
| 26 | Take A Bow | | |
| 27 | Restore The Patriarch | | |
| 28 | Three Less Than Three | | |
| 29 | Take The Long Way Home | | |
| 30 | 1 Bridge, 2 Grasshoppers, 3 Troublemakers | | |
| 31 | Finding Ilia | | |
| 32 | Out Of The Frying Pan... | | |
| 33 | Free Refill | | |
| 34 | All Kinds Of Fail | | |
| 35 | What The Bug Show | | |
| 36 | SCREAMS GALORE | | |
| 37 | Hylian Shenanigans | | |
| 38 | Arrows With A Side Of Aero | | |
| 39 | Sunflower Fields | | |
| 40 | Six More Bugs | | |
| 41 | Stupid Girl Voices | | |
| 42 | The Longest Night Ever | | |
| 43 | Tomboy Overkill | | |
| 44 | Everything But The Fish | | |
| 45 | Starting Lakebed Temple | | |
| 46 | Catch My Flow | | |
| 47 | Frog Splatter | | |
| 48 | Boob Bypass Surgery | | |
| 49 | Let's Blow This Popsicle Stand | | |
| 50 | April Morphools | | |
| 51 | He Doesn't Like You | | |
| 52 | Slow Trippin' | | |
| 53 | Not So Tough Without Your Moon Are Ya | | |
| 54 | The Master Sword | | |
| 55 | What's New In Town | | |
| 56 | Howlin' And SniffinininamamaBALLS! | | |
| 57 | Room Service | | |
| 58 | Return To Eldin | | |
| 59 | It's a "Y" | | |
| 60 | Arbiter's Ground Round | | |
| 61 | Super Redead Massacre | | |
| 62 | What A Bunch Of Assholes | | |
| 63 | I'll Be Around | | |
| 64 | Spin The Spine | | |
| 65 | The Culprit | | |
| 66 | Poe Folks | | |
| 67 | Poe Folks 2 | | |
| 68 | Poe Heart Spinner Butterfly Folks | | |
| 69 | Zora Mystery | | |
| 70 | Red Fish, PU Fish | | |
| 71 | Snowboard Or Die | | |
| 72 | Cozy Dungeon Is Cozy | | |
| 73 | Mortal Flaw | | |
| 74 | Swingin' My Ball | | |
| 75 | Snow Place Like Home | | |
| 76 | IN THE BEDROOM! | | |
| 77 | Two Less Lonely Yetis | | |
| 78 | I Lost To Yeto | | |
| 79 | Fast Forward Cave Crap | | |
| 80 | Ice Block Puzzle BLIND! | | |
| 81 | Sacred Montage | | |
| 82 | No Massacre Here | | |
| 83 | It's Time For Time | | |
| 84 | It's Time For A Darknut | | |
| 85 | It's Time For Walkin' The Dinosaur | | |
| 86 | It's Time For Destruction | | |
| 87 | Spider Splatter | | |
| 88 | A Few Loose Strings | | |
| 89 | Waiting For Tonight | | |
| 90 | Clint Norris | | |
| 91 | Please Remember Me | | |
| 92 | I Cat Tell You Why | | |
| 93 | Don't Get Shad, Get Glad | | |
| 94 | Booked Solid | | |
| 95 | Jacuzzi In The Sky | | |
| 96 | Super Sky Massacre I | | |
| 97 | Super Sky Massacre II | | |
| 98 | Super Sky Massacre III | | |
| 99 | Super Sky Massacre IV | | |
| 100 | Clawshotting With The Stars | | |
| 101 | Another Dungeon? | | |
| 102 | Darkness Falls | | |
| 103 | Pass Interference | | |
| 104 | Neon Ballroom | | |
| 105 | Like A Prayer | | |
| 106 | Too Late, Game Over Pal! | | |
| 107 | Beg Your Poedon | | |
| 108 | I'm Cuckoo For The CoO | | |
| 109 | Ordeal Or No Ordeal | | |
| 110 | No Hard Ordealings | | |
| 111 | Ordealio | | |
| 112 | May I Take Your Ordeal | | |
| 113 | I Never Used The Magic Armor | | |
| 113.5 | The Missing Link | | |
| 114 | Poetulla Reward | | |
| 115 | Hyrule Castle | | |
| 116 | What They Died For | | |
| 117 | Blindnuts | | |
| 118 | Ganon Cranks His Speakers | | |
| 119 | My Decision | | |
| 120 | No Sandwich For You | | |
| 121 | He Who Laughs Last | | |
| 122 | I Can't Take Credit | | |
| 123 | So Long 4 Now | | |
| CoO #1 | 2nd Run: Floors 1-20 | | |
| CoO #2 | 2nd Run: Floors 20-30 | | |
| CoO #3 | 2nd Run: Floors 30-40 | | |
| CoO #4 | 2nd Run: Floors 40-50 | | |