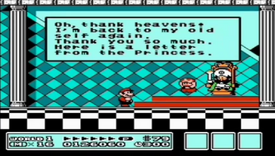 Super Mario Bros. 3 is, by start date, July 6 2011, NCS' 46th LP. The LP ended on July 12, 2011 and consists of 7 parts. He also subbed the LP the "The StupOid Run". This LP isn't really NCS' 46th LP in a sense because he already played it with Empolo18 (now his roommate) and also was a "discarded" 1st LP (World 5 and onward are missing, although he claims to have recorded Worlds 5 and 6, but never uploaded them). He also explained why that first LP didn't make the cut in the first episode while he played through the first two worlds of the game. The game is also played as part of MasterXPlouDer summer event of video games titled "8-Bit Summer".
Ad blocker interference detected!
Wikia is a free-to-use site that makes money from advertising. We have a modified experience for viewers using ad blockers

Wikia is not accessible if you've made further modifications. Remove the custom ad blocker rule(s) and the page will load as expected.