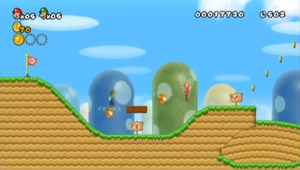 Let's Play New Super Mario Bros. Wii is NintendoCapriSun's first organised Co-Op Let's play. The Co-Op stars
Chibinekodemyx
has the guest player. This Let's Play, unless otherwise noted, is on hold.
Episode 7 was originally uploaded on April 14 by Empolo18 while NCS was out. Empolo, seeing that people was bitching about the desync, removed the video. NCS re-uploaded it a month later with the title "Re-synced At Last".
Ad blocker interference detected!
Wikia is a free-to-use site that makes money from advertising. We have a modified experience for viewers using ad blockers

Wikia is not accessible if you've made further modifications. Remove the custom ad blocker rule(s) and the page will load as expected.