Let's Play Jackal is, by startdate, Tim's 83rd Let's Play, the 3rd one after he moved to Ohio. Jackal is a run-and-gun game for the NES. It's also part of an "8-bit summer" series of LPs.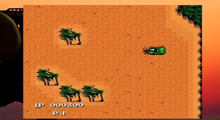 NCS started uploading Jackal on June 7th, 2015, and finished it two days later at only two parts. making this one of the shortest LPs NCS has ever done.
Episodes
Edit
| Ep. # | Title | Upload date | Link |
| --- | --- | --- | --- |
| 1 | Dave Dave Dave Dave Dave | June 7, 2015 | Click here |
| 2 | Wait, We're Done Already? | June 9, 2015 | Click here |
Ad blocker interference detected!
Wikia is a free-to-use site that makes money from advertising. We have a modified experience for viewers using ad blockers

Wikia is not accessible if you've made further modifications. Remove the custom ad blocker rule(s) and the page will load as expected.