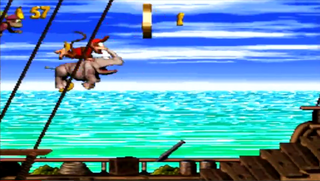 In the afternoon of December 13 2011, NintendoCapriSun decided to continue the Donkey Kong Country series by starting Donkey Kong Country 2 : Diddy's Kong Quest. It is his 52nd Let's Play. In the past, he already played the game with 900RedYoshi but never really played himself before his LP. This Let's Play will cover the game at 100%, as always.
The Let's Play ended on February 5, 2012 with 23 parts completed at "102%".
It is one of the few games that NCS actually used save states a lot in order to avoid game overs and death. The most noticeable use of them are when he tackled "Klubber Karnage" with the ZSNES emulator glitch. He did it thrice (1st time, wrong long for bonus barrel and last run for bonus barrel).
Playlist : N/A
| | | | |
| --- | --- | --- | --- |
| # | Episode Name | Upload Date | Link |
| 1 | Barelly Made It | Dec. 13, 2011 | Click Here |
| 2 | Death Water | Dec. 15, 2011 | Click Here |
| 3 | Piranha Roll | Dec. 17, 2011 | Click Here |
| 4 | Bramble Gamble | Dec. 19, 2011 | Click Here |
| 5 | Arrow Up The Nose | Dec. 21, 2011 | Click Here |
| 6 | Diddy Kong Racing | Dec. 23, 2011 | Click Here |
| 7 | Chozo Ghost Ropes Ya Know Yo | Dec. 27, 2011 | Click Here |
| 8 | On The Web Again | Dec. 29, 2011 | Click Here |
| 9 | Colossal Fail | Dec. 31, 2011 | Click Here |
| 10 | Hyperventilating | Jan. 11, 2012 | Click Here |
| 11 | Worst Video Ever | Jan. 13, 2012 | Click Here |
| 12 | The Last Of The Boshis | Jan. 16, 2012 | Click Here |
| 13 | Rose-Colored Glasses | Jan. 20, 2012 | Click Here |
| 14 | DUUUUUUUUUUUUUDE | Jan. 22, 2012 | Click Here |
| 15 | HOLY FAILBALLS 2! | Jan. 26, 2012 | Click Here |
| 16 | Still Barrels Run Deep | Jan. 28, 2012 | Click Here |
| 17 | Bird Race | Jan. 30, 2012 | Click Here |
| 18 | Screw The Rools | Jan. 30, 2012 | Click Here |
| 19 | TRIAL | Jan. 31, 2012 | Click Here |
| 20 | Relay Race | Feb. 02, 2012 | Click Here |
| 21 | Just A Few More DK Coins | Feb. 03, 2012 | Click Here |
| 22 | Goodbye... and Hello | Feb. 04, 2012 | Click Here |
| 23 | Through The Metal And Smoke | Feb. 05, 2012 | Click Here |