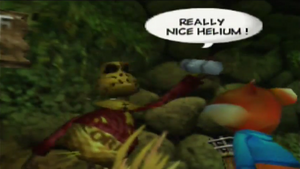 Conker's Bad Fur Day is NintendoCaprisun's 44th Let's Play. This is his 2nd Blind Let's Play, the first being The Legend of Zelda: Link's Awakening DX. Because of NintendoCapriSun's usage of bathroom humor, this series is one of his most anticipated especially with it being blind. He has been keeping count of every time he says "IN THE BATHROOM!" with a counter located at the bottom right-hand corner of the screen. By the end, he had said it a grand total of 134 times, and he himself lost count after not saying the phrase for a while during the "It's War" chapter. The Let's Play ended on September 13, 2011 with a total of 45 episodes.
Announcement
Edit
NintendoCapriSun announced his 44th LP, Conker's Bad Fur Day, to be starting June 2nd. He tweeted: "Got the first part of Conker's recorded, it's going up tomorrow..!" And he did!
Ad blocker interference detected!
Wikia is a free-to-use site that makes money from advertising. We have a modified experience for viewers using ad blockers

Wikia is not accessible if you've made further modifications. Remove the custom ad blocker rule(s) and the page will load as expected.